Stay informed about specials, closeouts, new products, and the latest trends in the retail industry,
exclusively
for Pulse subscribers.
Our plastic slatwall is a blended cellular PVC slatwall designed for retail or home use. Manufactured in the USA. Comparable in strength to MDF Board with metal extrusions, our plastic slatwall ships at a fraction of the cost of MDF slatwall. Strong, durable, water and moisture resistant this plastic slatwall is easy to clean. Has a smooth satin finish giving it a high-end look. Palay Display is your source for plastic slatwall and plastic slatwall accessories! To receive a sample of the plastic slatwall finish you are interested in, please call: (800) 437-5377.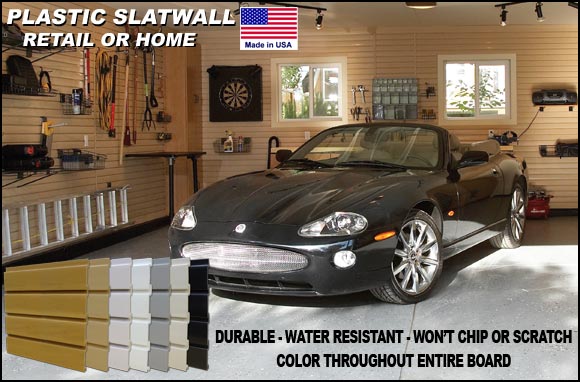 Plastic Slatwall
Plastic slatwall for retail use has several benefits. The plastic slatwall is strong and comparable in strength to MDF slatwall with extrusions. The plastic slatwall is durable and the color is throughout the entire board, just not on the surface. Use color match screws to complete the look of a professional slatwall install.
The plastic slatwall is also water and moisture resistant making the plastic slatwall easy to clean. It also is a great perimeter board to use in moisture areas where traditional MDF slatwall would fail. The plastic slatwall has been sold to green houses, flower shops, and other high moisture retail environments.
Plastic slatwall for home use has many benefits. You can find plastic slatwall more and more in a homeowner's garage. The plastic slatwall helps keep a homeowner's garage organized using the benefits of slatwall. The plastic slatwall is water and moisture resistant making the plastic slatwall easy to clean in a garage.
Be sure to order color match screws and trim pieces to finish off your plastic slatwall installation. The trim pieces come in several different lengths and colors to compliment your plastic slatwall. The trim pieces install easily.
Plastic slatwall is also known by plastic slotwall and plastic slot wall. Plastic slatwall vertical panels can ship via parcel carriers such as UPS to save you on freight. If you have questions regarding our plastic slatwall please contact a Palay Display Representative.