Palay Display Industries, a national leader in store fixtures and supplies, is located in Bloomington, Minnesota, a suburb of Minneapolis, Minnesota. The corporate headquarters is complete with sales support, inventory warehouse, shipping and receiving and customer service area located in the Twin Cities. Our office hours are Monday through Friday between 8:00 a.m. and 5:00 p.m. (Central Standard Time). Our Will Call - Customer Service Walk-In Area is open between 8:00 a.m. and 4:30 p.m. (Central Standard Time). PDI, featuring the latest trends in retail display, has been in business since 1945 and is a second generation family owned corporation.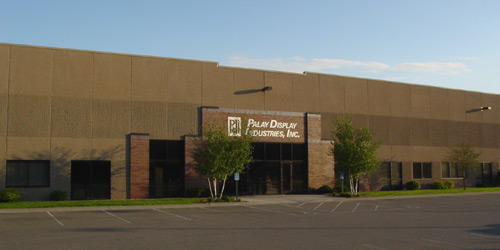 Experience

Servicing the display fixture industry since 1945, we are your one stop source for retail store fixtures and store displays. Our other division, Elements – Store Layout and Design, works hand and hand with our store fixture division to give you a complete retailing store fixture package.

Palay Display also specializes in custom retail store displays. Made from wood, acrylic, or metal, we can design display fixtures to your retail store needs usually at a comparable price to our standard store fixtures.

Why choose Palay Display?

The majority of all our in-stock items are normally shipped the same day, and we have excellent freight rates nationwide to save you even more.

As you look through our online catalog you will notice we are nationally competitive on all the store fixtures and store displays we sell. We invite you to browse through our website and see what we have to offer. Thank you for considering Palay Display, and we look forward to helping you with your fixture needs.