Stay informed about specials, closeouts, new products, and the latest trends in the retail industry,
exclusively
for Pulse subscribers.
The "South Hampton" Premium Double Putter Display. Double the display capacity of the single putter display. The golf display is made from oak. Deluxe carpeted surface. Holds up to 36 putters! 31"H x 34 1/2"W x 25 1/2"D. Weighs 40 lbs. Custom staining is available. Please contact a Palay Display representative with your specific stain color and for a nominal fee we can match it and finish this golf club display with your custom finish. This product is a part of our collection of
Retail Golf Displays
.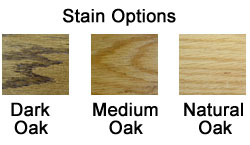 Related Items
31"H x 34 1/2"W x 25 1/2"D