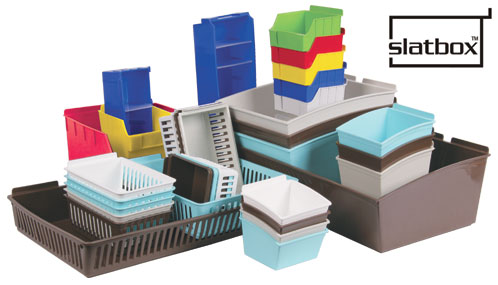 View All Slatbox Display Bins
Slatbox Display Bins FAQs
Can Slatbox be sterilized for clinical or hygiene purposes?
Slatbox is microwave safe and can withstand dishwasher and heat sterilization up to 120 degrees Celsius. Slatbox Storage Bins are also freezer safe (-40 degrees Celsius).
What are Slatbox Display Bins made of?
Slatbox Display Bins are made from new food grade polypropylene with impact modifier and UV stabilizers added. Slatbox is suitable for food contact applications, are FDA compliant and conform to the requirements of EFSA 2005/79/EC Directive, AS2070-1999, and Plastic Materials for Food Contact Use. Slatbox is also recyclable.
Can Slatbox be used on shelving or inside cabinets?
Yes, the flat base on the entire collection of Slatbox Display Bins allows for multiple display and storage use on any flat surface.
Can you confirm working weight loading each display bin in the Slatbox Display Bin Collection?
Yes, all Slatbox products have been weight certified to determine working load capacity with certification to International Standards. The Testing Service is accredited with the National Assocation of Testing Authorities (NATA) and complies with the requirements of ISO/IEC 17025 (1999) ensuring that all testing has been carried out in accordance with strict quality control initiatives and all relevant International Standards have been adhered to.
Can Slatbox safely store electronic devices to prevent electrostatic discharge (ESD)?
There are no additives for imparting electrostatic dissipative properties used in the polypropylene mix in the Slatbox range. Electronics and computer stores can use the boxes for storing packaged batteries, cell phone devices, etc. without the electronics in them being affected.
View All Slatbox Display Bins