Stay informed about specials, closeouts, new products, and the latest trends in the retail industry,
exclusively
for Pulse subscribers.
Palay Display stocks a wide selection of
perforated tags
- coupon tags - price tags and merchandise tags. Choose from strung perforated tags also called coupon tags, unstrung perforated tags, and custom perforated merchandise tags. Call or chat online if you have any questions about our retail merchandise perforated tags and coupon tags. Palay Display has been in the store fixture business since 1945!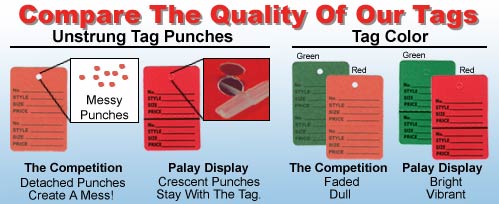 Perforated Price Tags
Palay Display offers a wide selection of perforated tags. These perforated price tags are also call coupon tags or coupon price tags. Perforated price tags work well for pricing your merchandise in a retail setting. The perforated tags come in a variety of colors. Keep you merchandise organized with these perforated coupon tags.
Perforated tags also called coupon tags can be purchased in several sizes. Palay Display has a large assortment of coupon tags also called perforated tags in stock. Choose from both strung perforated price tags and unstrung perforated price tags. Our perforated unstrung tags offer a crescent shaped punch at the top. This is important because the small punched circle stays with the tag rather than falling off and creating a mess in your retail space. Be sure to call if you have questions about our perforated tags also commonly called coupon tags.