Stay informed about specials, closeouts, new products, and the latest trends in the retail industry,
exclusively
for Pulse subscribers.
Our Gemini Series Display Cases are quality crafted display cases suitable for museums, art galleries, airports, optical, gift and fine jewelry stores just to mention a few. The Gemini Series Display Cases are manufactured with high quality materials and attention to detail.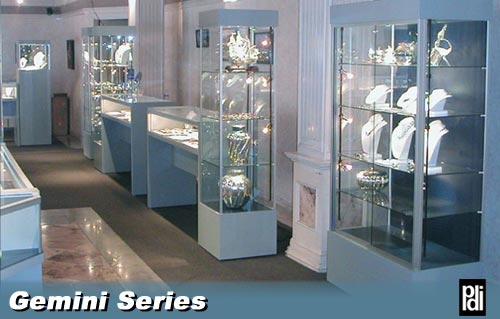 We invite you to click on the jewelry display images below to get a better look. If you like what you see in a particular photo, please contact a Palay Display representative.
| | | |
| --- | --- | --- |
| | | |
| Gemini 1 | Gemini 2 | Gemini 3 |
| | | |
| Gemini 4 | Gemini 5 | Gemini 6 |
| | | |
| Gemini 7 | Gemini 8 | Gemini 9 |
| | | |
| Gemini 10 | Gemini 11 | Gemini 12 |
| | | |
| Gemini 13 | Gemini 14 | Gemini 15 |
| | | |
| Gemini 16 | Gemini 17 | Gemini 18 |
| | | |
| Gemini 19 | Gemini 20 | Gemini 21 |