Stay informed about specials, closeouts, new products, and the latest trends in the retail industry,
exclusively
for Pulse subscribers.
Choose from several sign holder sizes and types. The adjustable countertop sign holder comes complete with your choice of sign holder, base with 18" high to 36" high adjustable upright. The 5" base and adjustable upright has a 3/8" diameter bottom tube and 1/4" diameter upper tube. The heavy-duty 6" base has a 5/8" diameter bottom tube and 3/8" diameter upper tube. All cardholders threads are stepped to accept either the 1/4" or 3/8" upright. Display your retail sign in a professional manner with this countertop sign holder. Image shows 8 1/2"H x 11"W #2225 Plexi Signholder with Metal Channel.
Note: The Heavy-Duty #2258 Upright is a closeout item limited to quantity on hand.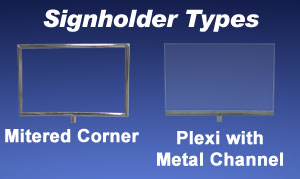 Related Items