Stay informed about specials, closeouts, new products, and the latest trends in the retail industry,
exclusively
for Pulse subscribers.
A unique ring base sign holder! The countertop sign holder ring base measures 3 1/2" in diameter with a 3 3/4"H upright. The base features a silvervein powdercoat finish with black nylon nut tightener. Choose from several matte black sign holders. Image shows silvervein ring base with 5"H x 11"W #2227B plexi with matte black metal channel sign holder. Sign holder ring base is threaded to accept 1/4" threaded sign holders.
Note: This is a discontinued product limited to quantity on hand.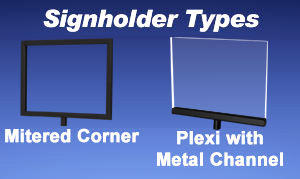 Related Items