Palay Display is not only committed to offering service and quality retail store fixtures, but also to educate our customers about our products. We have setup this frequently asked questions about slatwall to inform you about slatwall. We hope that whether you are new to slatwall, or have some experience with slatwall that you will find this page useful and informative.
What are other common names for slatwall? Slatwall is also commonly referred to as slatboard, slotwall, grooved board, grooved fiberboard and slat wall.
How are your slatwall panels constructed? No staples or nails are used in our slatwall board construction. Our slatwall panels are constructed of 5 components shown in the picture below: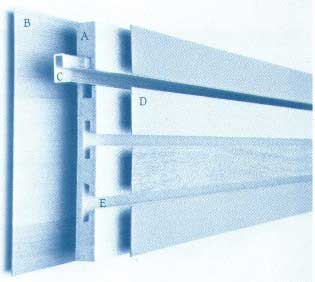 A. Panel B. Backer Sheet: Grade-3 wood veneer backer sheets are standard on all wood veneer panels. C. Extrusions: Add extra support with aluminum extrusions. D. Finishes: Standard panels are paint-ready: Wood veneers, high pressure and low pressure laminates are optional. E. Grooves: Angle T-grooves are standard; other grooving is optional.
What is the Inner-Bonding Strength of Slatwall? The IB (inner bonding) strength of grooved slatwall panels is a function of the adhesives and pressure used in manufacturing the board; it indicates the ability of the board to remain whole under stress. Average IB strength ranges from about 100 psi to 150 psi, the higher the number of your slatwall the better.
What is the hanging strength of slatwall? The hanging strength of slatwall is lowered as space between groves decreases and is affected by how and where the load is placed. For example, the farther from the panel face a product is hung, the less weight the panel support. If a bracket extending 6" from the panel face supports 120 lb., a bracket extending 12" will support only about 56lb. Also, hanging strength within 6 in. of the edge is only about two-thirds that of the rest of the panel.
What is Palay Display's standard slatwall panel? Our standard panel also known as our paint grade slatwall is 4' by 8', with angle T-grooves spaced 3" center to center along the 8' dimension, sanded, ready to paint.
What slatwall panel options are available? Panels are available in sizes to 5' by 12'. Our MDF Slatwall Panels can be grooved the short dimension, and grooves can be special- ordered on 2" centers or any multiple of 2" or 3" centers. Our newest addition to our slatwall selection is metal slatwall and designer textured slatwall. Metal slatwall is perfect for giving an industrial look to your retail environment. Our designer textured slatwall can set your store apart from those store that just have ordinary slatwall.
What are Metal Slatwall Extrusions and Plastic Slatwall Groove Treaments ? Extruded groove channels are sometimes used with grooved panels to add strength, or for decorative effect. A special, wider, groove is required for extrusions.
Extruded aluminum channels are available in both "L" and "T" configurations to strengthen grooves for heavy loads. The L-channel is the more economical, the T-channel is used with locking fixture brackets and where required by fire code. Milled aluminum finish is standard. Other anodized or painted colors are available, minimum order is 1,000 feet.
Extruded plastic slatwall groove treatments (also known as extruded plastic slatwall channels), are used for decorative effect. The color plastic channels are available in "T" configuration only, and are available in a wide range of colors. These plastic channels neither add nor decrease hanging strength; the special, wider groove with the insert is about equal in hanging strength to that of the standard T-groove.
What are slatwall laminate inserts also know as slatwall insert strips? Laminate inserts that slide into and cover the backs of standard angle T-grooves are often used for decorative effect. They can be added to existing panels; five colors are stocked, special colors are available.
What slatwall finishes are available?Palay Display categorizes our slatwall panels into seven categories. High Pressure Laminate (HPL) such as Formica®, have high impact resistance and are best for use in high-traffic areas. They offer a wide range of colors than low-pressure laminates. Low-pressure laminates also referred to as melamine slatwall have a similar surface to that of high-pressure laminates but cost less. Although they have good abrasion resistance, they have less impact resistance than high-pressure laminates. Standard Panels also known as paint grade slatwall or paint ready slatwallis ready to paint. Unfinished wood veneers slatwall add class to any retail environment. Please note that a sealant needs to be applied to our wood veneers during installation to prevent weathering and warping. Metal Slatwall adds strength and an industrial look. It is available in several colors. Our mirrored slatwall adds elegance wherever it is placed. Finally our Textured Slatwall – Designer Slatwall is a unique, sophisticated, three-dimensional textured slatwall and is considered one of our most exclusive high end slatwall.
What is a slatwall panel backer sheet? Grade-3 backer sheets, which provide anti-wrap protection, are standard on all wood veneer panels. Selected finer-grade backers are available for fixture use. Though seldom required, plastic-laminate backer sheets are available to provide anti-wrap protection to panels faced with high-pressure or low-pressure plastic laminates when panel backs are exposed.