Specifically designed for a sporting goods chain by Palay Display, the Industrial Sunglass Case shows off the latest trend of in the industry of raw metal.
The Industrial Sunglass Case fits the customer required secured storage and display all in one. Customer also wanted to incorporate television into the display. Combining all of these required elements, Palay Display came up with a industrial steel case that didnít leave out any detail.
The upright case includes: Two locking storage drawers. A lighted and lockable sunglass display area with adjustable glass shelves. Upright square tubes on each side provide space for mirrors. The top was setup to hold a television which sits at an angle, complete with a belt to keep the television from moving. The best feature of this unit can be seen in the detail. Bolts were sheared off, and 90 degree angled raw steel were welded to the outside of this unit to provide for a slick industrial look that gives it a very heavy-duty appearance. The unit was then covered with a clear coat finish which gives it a polished appearance.
Palay Display also created a sister display to the upright case in a counter version. This unit is perfect for displaying stop watches, watches, or sunglasses! These units put side by side give the entire area a hip and up-to-date feel. Palay Display also delivered and installed these units to assure the units placements and assembly were correct, thus overseeing the entire project from concept to reality!
---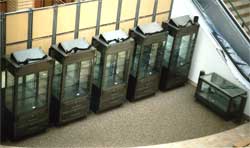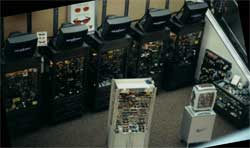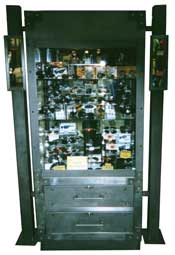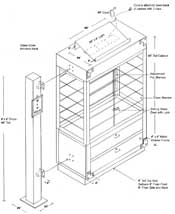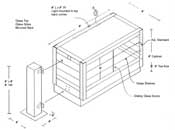 More Proven Concepts from Palay
Read more Proven Concepts to Reality sucess stories from Palay Display.