Palay Display Store Fixtures
::
Jewelry Displays
::
TIKI - Wood Jewelry Displays
TIKI - Wood Jewelry Displays
The TIKI Collection Warm Wood Jewelry Displays by Palay Display offers an exotic feel to your jewelry using hand carved wood jewelry displays. Add an earthy feel to your featured necklaces and rings. These hand carved warm wood jewelry displays are sure to improve your jewelry presentation instantly. If you cannot find the exact wood jewelry display you are looking for please contact a Palay Display Representative for assistance. Palay Display is your one stop for store fixtures.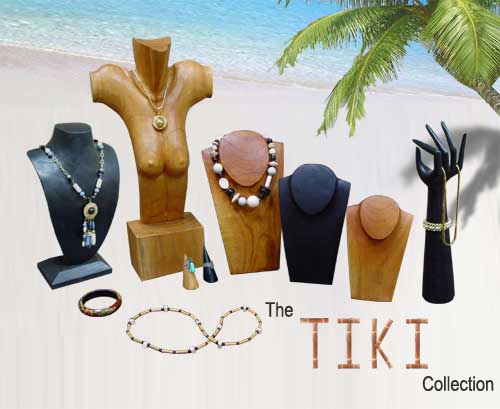 ---
See details
Warm Wood Jewelry Display Hands - Espresso
SKU: 2750

Warm Wood Jewelry Display Hands. Bring a unique feel to your jewelry display with these wood jewelry display hands. Each jewelry display hand stands 10 inches tall. These wood jewelry display hands are carved by hand and finished in an espresso stain.

Dimensions: 10"H


---

Price:

$ 19.95
See details
Wood Jewelry Display Bust
SKU: 3047

Wood Jewelry Display Bust - Natural. This warm wood jewelry display bust is an attractive necklace display which would be ideal in a setting with other TIKI warm wood jewelry displays. Our TIKI warm wood jewelry display bust is hand carved, and each piece is unique.

Dimensions: 8 3/4"H x 6 1/2" D x 7"W


---

Price:

$ 41.50
See details
Wood Jewelry Display Bust with Neck - Black
SKU: 2944B

Wood Jewelry Display Bust with Neck. Enhance your presentations with this exotic warm wood jewelry display bust with neck form. This wood jewelry display bust with neck is hand carved and features a smooth carving transition from the chest to the neck. It stands 11" tall and 6" wide.

Dimensions:


---

Price:

$ 24.50
See details
Standup Wood Jewelry Display Bust - Natural
SKU: 2923

This warm wood jewelry display is perfect for displaying your necklaces. Our TIKI warm wood standup jewelry display bust is hand carved, and each piece is unique. The large wood jewelry standup display bust is made of natural wood with a protective stain finish.

Dimensions: 12 1/2"H x 7 1/2"W x 4"D


---

Price:

$ 36.90
See details
Small Wood Jewelry Display Bust - Black
SKU: 2918B

This black warm wood jewelry display is perfect for displaying your necklaces. Our TIKI warm wood jewelry display bust is hand carved, and each piece is unique. The small wood jewelry display bust is made of natural wood with a black stain finish.

Dimensions: 5 1/4"W x 8"H x 2 1/4"D


---

Price:

$ 12.90
See details
Small Wood Jewelry Display Bust - Natural
SKU: 2918

This warm wood jewelry display is perfect for displaying your necklaces. Our TIKI warm wood jewelry display bust is hand carved, and each piece is unique. The small wood jewelry display bust is made of natural wood with a protective stain finish.

Dimensions: 5 1/4"W x 8"H x 2 1/4"D


---

Price:

$ 12.90
See details
Medium Wood Jewelry Display Bust - Black
SKU: 2920B

This black warm wood jewelry display is perfect for displaying your necklaces. Our TIKI warm wood jewelry display bust is hand carved, and each piece is unique. The small wood jewelry display bust is made of natural wood with a black stain finish.

Dimensions: 6 1/4"W x 9 1/4"H x 2 1/2"D


---

Price:

$ 21.25
See details
Medium Wood Jewelry Display Bust - Natural
SKU: 2920

This warm wood jewelry display is perfect for displaying your necklaces. Our TIKI warm wood jewelry display bust is hand carved, and each piece is unique. The medium wood jewelry display bust is made of natural wood with a protective stain finish.

Dimensions: 6 1/4"W x 9 1/4"H x 2 1/2"D


---

Price:

$ 21.25
See details
Large Wood Jewelry Display Bust - Black
SKU: 2922B

This black warm wood jewelry display is perfect for displaying your necklaces. Our TIKI warm wood jewelry display bust is hand carved, and each piece is unique. The large wood jewelry display bust is made of natural wood with a black stain finish.

Dimensions: 6 1/2"W x 12 1/2"H x 2 1/2"D


---

Price:

$ 29.10
See details
Large Wood Jewelry Display Bust - Natural
SKU: 2922

This warm wood jewelry display is perfect for displaying your necklaces. Our TIKI warm wood jewelry display bust is hand carved, and each piece is unique. The large wood jewelry display bust is made of natural wood with a protective stain finish.

Dimensions: 6 1/2"W x 12 1/2"H x 2 1/2"D


---

Price:

$ 29.10
See details
Wood Jewelry Display Bust with Neck
SKU: 2944

Warm Wood Jewelry Display Bust with Neck. Enhance your presentations with this exotic warm wood jewelry display bust with neck form. This warm wood jewelry display bust with neck is hand carved and features a smooth carving transition from the chest to the neck. It stands 11" tall and 6" wide.

Dimensions:


---

Price:

$ 24.50
See details
Extra Large Wood Jewelry Display Bust - Black
SKU: 2957B

This black warm wood jewelry display is ideal for displaying long necklaces. Our TIKI warm wood jewelry display bust is hand carved, and each piece is unique. The black extra large wood jewelry display bust is made of natural wood with a black stain finish.

Dimensions: 19 3/4"H x 7 1/8"W x 2 1/2"D


---

Price:

$ 43.95
See details
Extra Large Wood Jewelry Display Bust - Natural
SKU: 2957

This natural warm wood jewelry display is ideal for displaying long necklaces. Our TIKI warm wood jewelry display bust is hand carved, and each piece is unique. The extra large wood jewelry display bust is made of natural wood with a protective stain finish.

Dimensions: 19 3/4"H x 7 1/8"W x 2 1/2"D


---

Price:

$ 43.95
See details
Wood Jewelry Display Hand - Black
SKU: 2942B

This black warm wood jewelry display hand is perfect for displaying your necklaces, rings, watches, bracelets and chains. Our TIKI warm wood jewelry display hand is hand carved, and each piece is unique. Includes one display hand. Image shows two display hands. The wood jewelry d...

Dimensions: 16"H x 3"W x 3"D


---

Price:

$ 29.85
See details
Wood Jewelry Display Hand - Natural
SKU: 2942

This natural warm wood jewelry display hand is perfect for displaying your necklaces, rings, watches, bracelets and chains. Our TIKI warm wood jewelry display hand is hand carved, and each piece is unique. Includes one display hand. Image shows two display hands. The wood jewelr...

Dimensions: 16"H x 3"W x 3"D


---

Price:

$ 29.85
See details
Large Earring Wood Jewelry Display
SKU: 2950

Warm Wood Jewelry Display Earring Stand. Enhance your earring displays with this warm wood jewelry display earring stand. This warm wood jewelry display earring stand is hand carved and stands 5 inches tall and 2 inches wide.

Dimensions: 5"H x 2"W


---

Price:

$ 4.25
See details
Wood Ring Jewelry Display - Natural
SKU: 2921

This warm wood conical ring jewelry display is perfect for displaying any type of ring. The conical ring is slanted back for improved ring viewing. Our TIKI warm wood jewelry ring display is hand carved, and each piece is unique. The wood jewelry ring display is made of natural wood with a pr...

Dimensions: 1" Dia. x 2 1/2"H


---

Price:

$ 2.50
See details
Wood Ring Jewelry Display - Black
SKU: 2921B

This black warm wood conical ring jewelry display is perfect for displaying any type of ring. The conical ring jewelry display is slanted back for improved ring viewing. Our TIKI warm wood jewelry ring display is hand carved, and each piece is unique. The wood jewelry ring display is made of ...

Dimensions:


---

Price:

$ 2.50
See details
Wood Sunglass Display Schnoz
SKU: 2947

Warm Wood Sunglass Display Schnoz. Choose this unique and exotic warm wood sunglass display schnoz to display your sunglasses. This warm wood sunglass display schnoz is hand carved and stands 10 inches tall. Note: This is a closeout item limited to quantity on hand.

Dimensions: 10"H


---

Price:

$ 34.00


Sale Price:

$ 19.00

Save 44%