Palay Display Store Fixtures
::
Store Fixture Collections
::
Mirage Mini Ladder System
Mirage Mini Ladder System
The Mirage mini-ladder adjustable wall and floor system allows you to easily change the appearance of the system by moving the ladder posts and changing accessories. This system is truly a contemporary and flexible display fixture. Combining the Mirage wall units with the floor-standing units will create an environment focused on today'­s competitive retail market. If you cannot find exactly what you are looking for please chat online or call and one of our knowledgeable representatives will assist you with questions on our Mirage Mini Ladder System.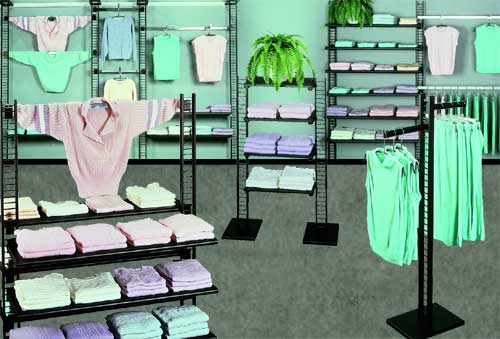 ---
See details
Interior Shelf Bracket
SKU: 1501

Interior Shelf Bracket to be used with Mirage Mini Ladder Shelves. The interior shelf bracket measures 12"L.

Dimensions: 12"L


---

Price:

$ 3.75
See details
Mini Ladder Post Matte Black
SKU: 1493

Mini-Ladder Post. Made of 1/2" x 1 1/2" rectangular tube with 1/4" rungs, 11/2" on center, 3" wide. Rungs are spaced to accept all grid accessories. Complete with adjustable levelers.

Dimensions: 87 1/2" Tall


---

Price:

$ 35.45
See details
Wall Channel White
SKU: 1504

Wall Channel - Aluminum. Attaches Mini Ladder post to wall. Note: This item is packed 2 per carton. Although the item is priced per each, it is shipped in full carton quantities only. This product is a part of our Mirage Mini Ladder System. Image shows #1504 with #1493 ladder pos...

Dimensions: 8' Long


---

Price:

$ 42.50