Palay Display Store Fixtures
::
Store Fixture Collections
::
Brushed Chrome Display Collection
Brushed Chrome Display Collection
Add a contemporary display look to any retail environment with our Brushed Chrome Store Fixture Collection. The sophisticated look of brushed chrome is a nice alternative to chrome. We have a wide selection of brushed chrome racks, brushed chrome hooks, brushed chrome faceouts, brushed chrome lingerie racks, brushed chrome round racks and much more! If you cannot find exactly the brushed chrome displays you are looking for please chat online or call and one of our knowledgeable representatives will assist you with your brushed chrome store fixture questions. Palay Display has been supplying store fixtures and retail store displays since 1945!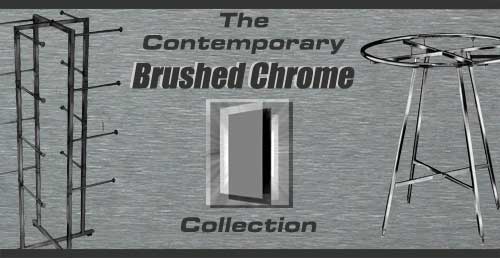 ---
See details
Rack Accessory - Add-On Faceout Brushed Chrome
SKU: TVLR

12" round tube faceout for vertical 1" square tubing with puck in brushed chrome. Works on any of our racks with 1" square tube uprights. Matches our brushed chrome lingerie tower (#B6028). This is a closeout item, limited to quantity on hand.

Dimensions:


---

Price:

$ 3.25


Sale Price:

$ 0.49

Save 85%
See details
Rectangular Arm for Square Tube
SKU: BTVER

Brushed Chrome Rectangular Arm for Square Tube. This is a closeout item, limited to quantity on hand.

Dimensions: 16"


---

Price:

$ 4.15


Sale Price:

$ 0.49

Save 88%
See details
Raised Corner Base, Offset Pole, 16"H
SKU: 5629

Available in brushed chrome. Supplied with 16" extension pole 5/8" diameter. The elegance of brushed chrome bases adds distinction to your display forms. Style doesn't have to be expensive! This product is a part of our Brushed Chrome Di...

Dimensions: 12"W x 16"L x 16"H


---

Price:

$ 54.95
See details
Trim-Line Center Form Base, 32" - Brushed Chrome
SKU: 5627BC

32" High Trim-Line Form Base. The elegance of brushed chrome form bases and midnight black form bases adds distinction to your display forms. Style doesn't have to be expensive! Center pole with 5/8" diameter upright pole. The form base comes in your choice of brushed chrome or midnight black...

Dimensions: 12"W x 12"L x 32"H


---

Price:

$ 40.35
See details
Trim-Line Offset Form Base, 42" - Brushed Chrome
SKU: 5626BC

42" High Trim-Line Form Base. The elegance of brushed chrome adds distinction to your display forms. Style doesn't have to be expensive! Offset pole with 5/8" diameter upright pole.

Dimensions: 12"W x 16"L x 42"H


---

Price:

$ 51.65